Miami -Dade & Florida Wind Code® Information
Brought to you by ADCO Garage Doors: One of Miami-Dade and Broward County's Finest Garage Door Dealer
Contact Us to Learn More
HIGH VELOCITY HURRICANE ZONE (HVHZ)
Miami-Dade and Broward Counties require all garage doors meet the large missile impact rating, regardless if the garage door has windows or not. Impact windows are available in these Counties. If your home needs a solidly constructed, impact garage door, read on to learn how ADCO Garage Doors can help.
Garage Doors: Critical Components
Garage doors play a critical role in protecting your home, especially if you live in Miami-Dade and Broward counties, which are hurricane prone or high wind regions.
"As the largest opening on a house, the loss of a garage door during a hurricane can lead to an uncontrolled buildup of internal pressure resulting in a complete or partial blowout of the entire roof system and supporting walls" and "Garage doors are now considered to be one of the most important parts of a building's structure in regards to maintaining its structural integrity during a hurricane," said Mark Westerfield, manager of product development and engineering for Clopay Building Products Company, the largest U.S. manufacturer of residential garage doors.
"To meet the new codes, garage doors must have heavier gauge tracking and springs to help keep them in place under extreme wind loads," added Westerfield. "Retrofitting a door with new hardware won't provide the same structural integrity as a new door in the event of a storm." Homeowners who have not replaced their garage door since the code took effect should consider installing a code-approved, hurricane rated, reinforced model.
Insurance companies in Miami-Dade and Broward counties most of the time give substantial discounts for garage doors and other exterior building products that meet or exceed the local building code, including meeting wind-borne debris requirements not mandated. This means that installing a new garage door with the large missile impact rating may reduce your insurance premiums. Please check with your insurance agent for details.
______________________________________________________________________
The HVHZ, High Velocity Hurricane Zone, designates a geographic area incorporating all of Miami/Dade and Broward Counties. Garage doors installed in this area must meet the most stringent requirements in the entire United States and must be impact rated.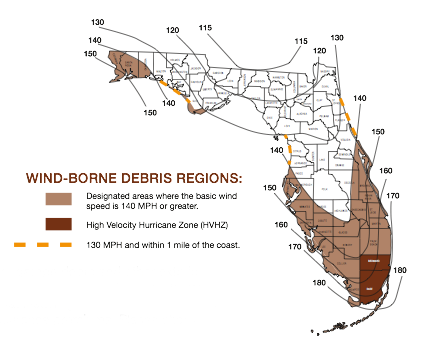 Check out our Wind Code Brochure
_____________________________________________________________________
The single most important improvement you can make to your home is to install a Hurricane-Rated garage door. We offer our Miami and Broward County homeowners varieties of Clopay garage door, each with its own subset of design features and appointments. These hurricane impact rated garage doors offer additional protection to your residence.
Clopay has been a leader in garage door manufacturing for over fifty years, supplying residential customers with products that strike a rare balance between beautiful aesthetics and strong durability.
Let's take a quick look at each of the Clopay doors we offer to see which would work best for your home: