How to Choose the Right Garage Door for Your Florida Home

A garage door often serves as a second entrance to your home, and it makes up a significant portion of your exterior property. Buying a garage door in Florida means you need a sturdy option that's resistant to hurricanes, heavy winds and humidity.
At ADCO Garage Doors, we have an inventory of residential products that come with various style, material, color and size options. You may also consider using our Door Imagination System to try out different products on your property. This guide can help you figure out how to buy a garage door replacement and customize it according to your design preferences.
Choosing a New Garage Door Style

The door you choose should complement your home's style to enhance its curb appeal. Consider the characteristics of the following garage door styles to find the best one for your property's design.
1. Carriage House
Carriage house garage doors combine functionality and elegant charm. Their decorative hardware and wood composite overlay patterns give them the look of a traditional carriage house door. At the same time, they work like an overhead door to conveniently allow your vehicle into the garage.
Consider the various Clopay® carriage house overhead doors we have in our inventory:
2. Contemporary
Sleek, clean lines define Clopay modern garage doors, as seen in the following collections:
MODERN STEEL™ collection: The residential overhead doors in the MODERN STEEL™ collection complement your modern or contemporary homes' aesthetic. You can add windows to your door to let in natural light and highlight your property's architectural details. This garage door comes with either Flush or Modern Groove panels, according to your design preferences. Its three-layer steel construction with insulation can protect your interior property from the hurricanes and heat you may experience in South Florida.
CANYON RIDGE® collection MODERN series: The CANYON RIDGE® collection MODERN series features a versatile, faux wood garage door design that complements midcentury modern homes. You can style your door with full-view glass, horizontal planks or aluminum inlays for a unique look.
3. Traditional
If you prefer a classic appearance, we offer several traditional garage doors that can enhance your home's curb appeal with minimalistic design elements. Consider the following collections in our inventory:
CLASSIC™ collection PREMIUM Series: The durable, energy-efficient steel garage doors in the PREMIUM series offer a simple appearance that can accommodate any design aesthetic. You can choose from various insulation, window, panel and color options, depending on your style and weather needs.
CLASSIC™ collection VALUE Series: If you're looking for a cost-effective option, the garage doors in the VALUE Series offer an economical selection. The doors in this collection have the same durability and maintenance qualities, but you have fewer options for panel, window and color design.
Choosing a Garage Door Material

South Florida garage doors need to be able to withstand hurricanes, heat and humidity. Your door's material should last a long time so you don't have to replace it frequently. We offer the following garage door types that can enhance your home's curb appeal and protect your living space from coastal weather:
Steel: Steel is a popular garage door material because of its low cost, easy maintenance and various customization options. It can accommodate the South Florida climate, and with proper insulation, can help regulate your indoor living space's temperature which can lower energy costs. You can even customize your garage door style with a wood finish that gives it a natural wood appearance. We offer several steel door collections that can complement traditional, modern and contemporary designs.
Wood: Wood is a classic garage door material that gives your exterior property an exceptional aesthetic appeal. Since wood is a natural insulator, it can help regulate the temperature of your indoor living space, potentially reducing your energy costs each month. Garage doors made of natural hardwood are available in different wood species, each with outstanding durability and aesthetic qualities. Consult your garage door distributor about which species would best accommodate your home's climate.
Wood composite: As an economical and durable alternative to natural wood, faux wood garage doors contain recycled wood and plastic fibers. This material blends the benefits of durable steel and beautiful wood into a functional and aesthetically pleasing garage door. Since faux wood is more resistant to humidity and fluctuating temperatures than solid hardwood, it may be more suitable for your home in South Florida.
Choosing a Finish for Your Garage Door
Your garage door's finish protects your door from the elements and enhances your curb appeal. Our Clopay residential overhead doors are available in various factory color finishes, including our Ultra-Grain® wood finish that resembles natural wood. You may want to review the design options brochure of your desired garage door style to find out which colors are available. Some of our products are eligible for Clopay's Color Blast® system, allowing you to choose from more than 1,500 Sherwin-Williams® colors.
Consider your design preferences and weather needs as you think about which finish you want to apply to your garage door. Your door's color should complement the rest of your exterior property, serving as an aesthetically pleasing focal point for your home. Since you live in South Florida, you may also want to choose a color shade that helps keep your home cool.
Darker colors tend to absorb heat, and they might make your living space warmer throughout the year. A reflective, light color could boost your curb appeal and your indoor property's comfort level. If you're concerned about finding the right color for your garage door, consult a specialist about which options would be best for your home.
How to Buy a Garage Door With Windows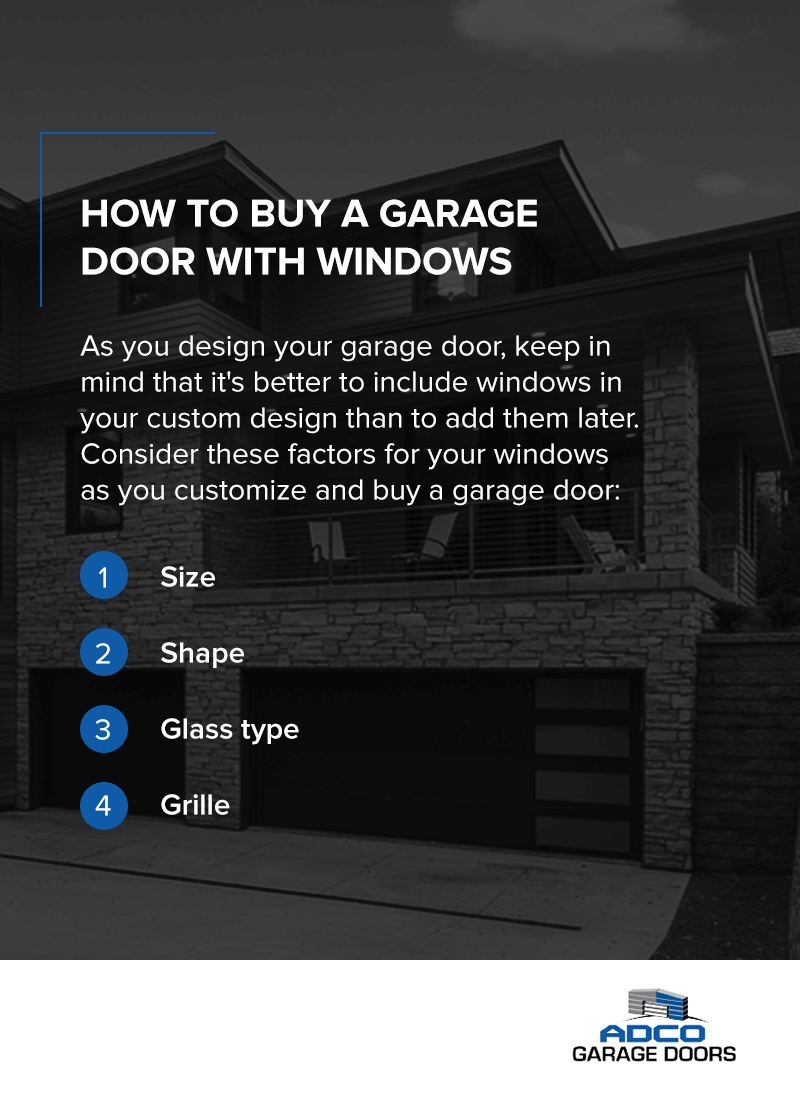 Along with your garage door's various color and material options, you can also add windows for a hint of sunlight and character. Your windows' design can make the door even more unique. These additional features can also bring in natural light to make your garage feel spacious and inviting. We offer insulated windows to protect your home against the heat.
As you design your garage door, keep in mind that it's better to include windows in your custom design than to add them later. The design options brochure for your desired garage door product can help you figure out which windows are available. Consider these factors for your windows as you customize and buy a garage door:
Size: You can choose windows that take up the whole top of your garage door or a few small windows to bring in natural light. The size of your windows depends on your desired aesthetic and privacy requirements.
Shape: The shape of your windows should complement your door's style and configuration. If you have an arched garage door, consider designing it with curved window panels. Arched windows are also prevalent in carriage house doors because of their vintage appearance. Consider whether you have a contemporary or traditional home to help design your windows.
Glass type: Our overhead door windows come with several tint, transparency and texture options, depending the collection you prefer. It's best to consult the design brochure to see which glass comes with your desired product. Some examples include obscure, antique and frosted. Keep in mind that a clear window would bring more natural light into your garage, but a frosted one would give you more privacy.
Grille: A decorative grille could go over your windows to give your property an aesthetic boost. You can remove these grilles at any time if you need to clean your windows. You could have horizontal, vertical or crossed grilles to enhance your windows' design.
What Else Should You Consider When Choosing a New Garage Door?
Besides all the custom aesthetic options that come with South Florida garage doors, you might also want to consider these other factors:
Insulation: You can customize your overhead door with a layer of Intellicore® polyurethane or polystyrene insulation to enhance your home's resistance to the elements. Consider selecting a product with a higher R-value to better regulate the temperature of your indoor living space. Even though a garage door with insulation tends to cost more, it allows you to save money on your monthly energy bills, so it's well worth the investment.
Budget: With a custom-made garage door, you're in control of how much you'll ultimately pay for the product. Factors such as material, insulation and style all affect the price. Let your garage door specialist know about your budget requirements before you begin the process of buying a garage door so they can help you find a product within your price range.
Door size: You need to order the right garage door size to fit your vehicles into your property. During the estimate, the garage door specialist will measure the opening to find out your product's specific dimensions. In general, you would either install a single-car or double-car garage door. You can also get two single-car garage doors next to each other if you prefer the aesthetic. Consult with your garage door representative if you have a uniquely shaped door opening that requires a custom size.
Track: The tracks hold and guide the rollers that allow a smooth operation of your garage door. You need to make sure your tracks fit the garage to give the door enough headroom and sideroom to move without damaging your property. The distributor should know which track can accommodate your product's weight and size.
Decorative hardware: Your garage door's decorative hardware is the finishing touch that brings the whole look together. Add metal handles, plates or hinges to enhance the aesthetic of your custom design. Read through the brochure of your desired product to find out which hardware options are available for you.
Garage Doors That Can Withstand Heavy Winds
You can identify a wind-resistant garage door by its WINDCODE® rating. If you live in South Florida, you most likely need a door that can stand up against heavy wind loads. We provide doors that are compliant with local heavy wind regulations to protect and strengthen the largest entrance into your living space.
Reinforcement on your door gives it a higher resistance to hurricane winds. To use this durable garage door in harsh weather conditions, you don't need any special equipment or setup. You only need to close and secure it for it to withstand the upcoming storm. Along with the door, our windows also come with WINDCODE® protection. Instead of worrying that your glass will break in heavy winds, you can have peace of mind that your whole garage door can withstand all types of weather in your area.
A weak garage door could buckle during a massive storm and potentially cause your roof and walls to crumble under the weight. Clopay's garage doors have various WINDCODE® ratings to withstand intense wind speeds. You can select a product based on your area's wind code requirements. Consult the WINDCODE® brochure for Florida to determine what rating you need for the weather in your region. A local garage door dealer can also help you find your ideal product.
Contact ADCO Garage Doors for Garage Door Sales and Service

If you live in the South Florida area and need a new garage door, check out our inventory at ADCO Garage Doors. As a Clopay Master Authorized® Dealer, we provide a wide selection of high-quality residential overhead doors that can protect your home in South Florida from hurricanes. You can fill out a contact form or call 305-885-8836 to request a free estimate.